Do you know how to keep Apple Music songs forever? If you are looking for any software that can easily help you with this and can also help you stream the Apple music on the desired device or does not limit you from streaming right through Apple device itself, then UkeySoft Apple music converter is your option. It is a powerful DRM removal tool for removing DRM from Apple Music, and it has enough considerations for Apple music to mp3 converter as well.  After converting Apple Music songs to mp3, you can keep Apple Music forever, or listening to Apple Music songs offline on any devices, such as iPod Nano, iPod classic, iPod shuffle, Sony Walkman, SanDisk, PSP, Xbox, Android TV, Android tablet and any MP3 players.
It does not only remove the DRM protection but also enables the user to convert Apple music to mp3, WAV, FLAC, and various other formats so that the user can easily enjoy offline Apple music on any device without any interruption.
What is special about the UkeySoft Apple music converter?
The UkeySoft Apple Music Converter has one of the most sparking features as it helps to remove the protection of Apple music DRM removal along with this it also helps the user to convert Apple Music songs in DRM-free formats like MP4, MP3, FLAC, AU files and so on. The software removes the DRM protection from Apple music tracks. There are various to choose UkeySoft Apple music converter, and some of them are mentioned below-
It really helps to remove DRM protection from Apple music and deliver in the desired output format
It can easily convert M4P songs and other Apple Music songs to MP3 or other formats.
More output formats: WAV, AAC, AC3, AIFF, AU, FLAC, M4A, M4R, and MKA.
It can also conduct the function for iTunes DRM audio converter and audiobooks in the desired format
It has a batch conversion feature.
It can convert Apple Music songs at 16X speed.
The user can easily remove DRM from Apple music by playing the songs in offline mode and on any device.
Works well with the latest version of iTunes and the new Apple Music app.
Compatible with Windows 10/8.1/8/7 and macOS 10.9 – 10.15(macOS Catalina).
UkeySoft Apple Music Converter for Mac and Windows
The UkeySoft Apple Music Converter can not only be said as Apple music to MP3 converter, but it also supports the Apple music DRM removal and iTunes DRM audio converter. It can convert Apple Music songs, iTunes audiobooks, iTunes M4P audio, audible audiobooks to the required format.
It also speedily conducts the conversion so that users can instantly stream the music on their device. It is one of the best options available as it is specially designed to support DRM removal and convert the Apple music to other non-DRM MP3 formats. Whatever the user required, they can share with their friends easily with this software.
As we have already considered its utility and other rudimentary features, we can finally understand its installation and conversion process. The UkeySoft software to convert Apple Music to Mp3 is available for Windows as well as Mac and follow through the process mentioned below to learn how it takes place.
How to Convert Apple Music to MP3 format on macOS Catalina
For MacOS 10.15 Catalina and later: Because the iTunes was splited into Apple Books app, Apple Music app, Apple Podcasts and Apple TV apps. If you have updated your Mac computer to macOS 10.15 Catalina, please follow this guide to convert Apple Music tracks to MP3. If your Mac computer runs with macOS 10.14 or older version, the user guide is the same as Windows version, please read the part 2 user guide.
Step 1:
To convert Apple Music songs to MP3 efficiently on macOS Catalina, just add music tracks from the Apple Music store to the library because the converter will load the items media and songs together from the playlist.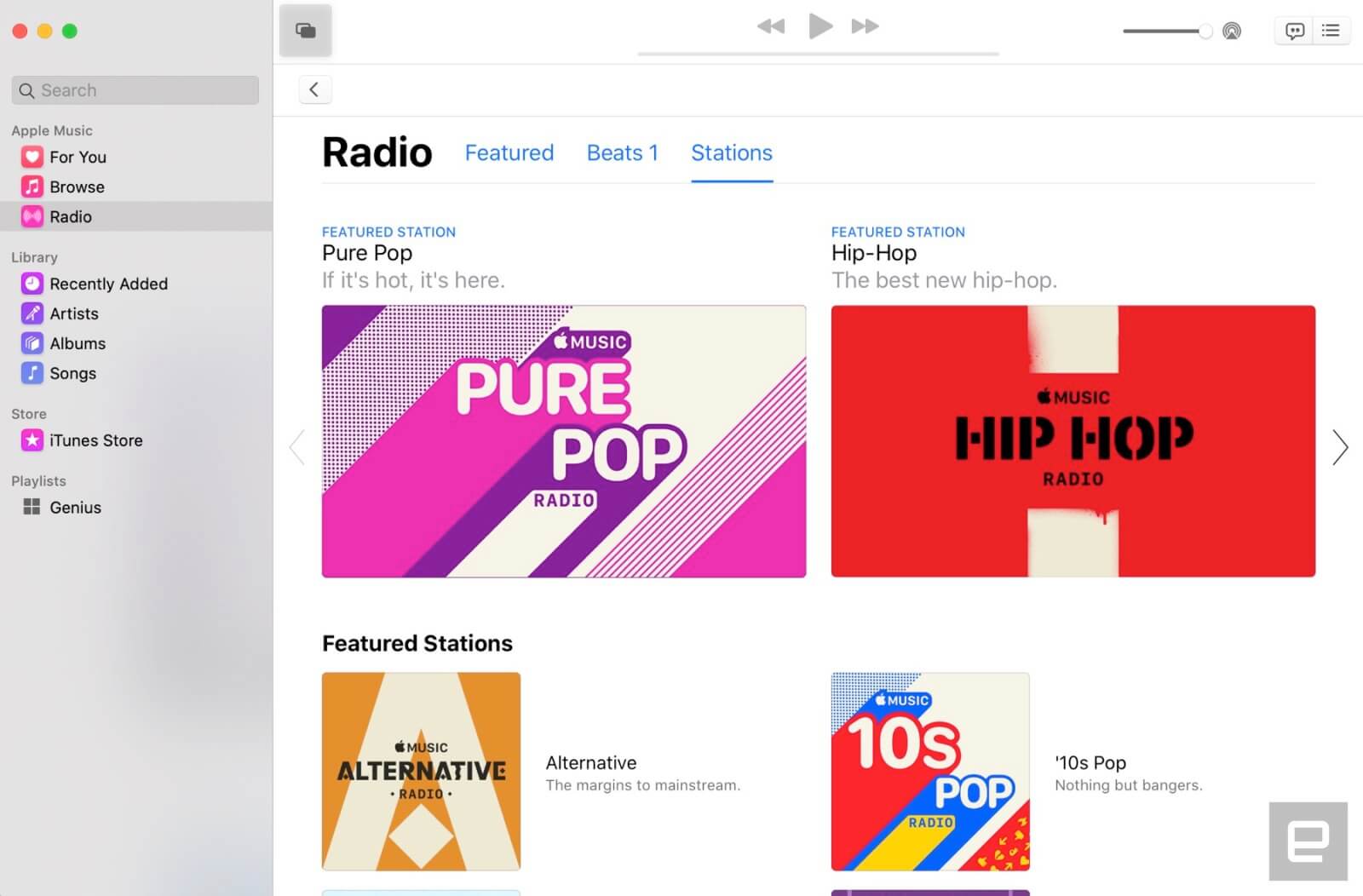 Step 2:
Now you have to simply launch the Apple Music Converter(Mac), and once it is done, the new Apple Music app will also get launched automatically. At this stage, the entire music library is more likely to appear on the left pane of the screen.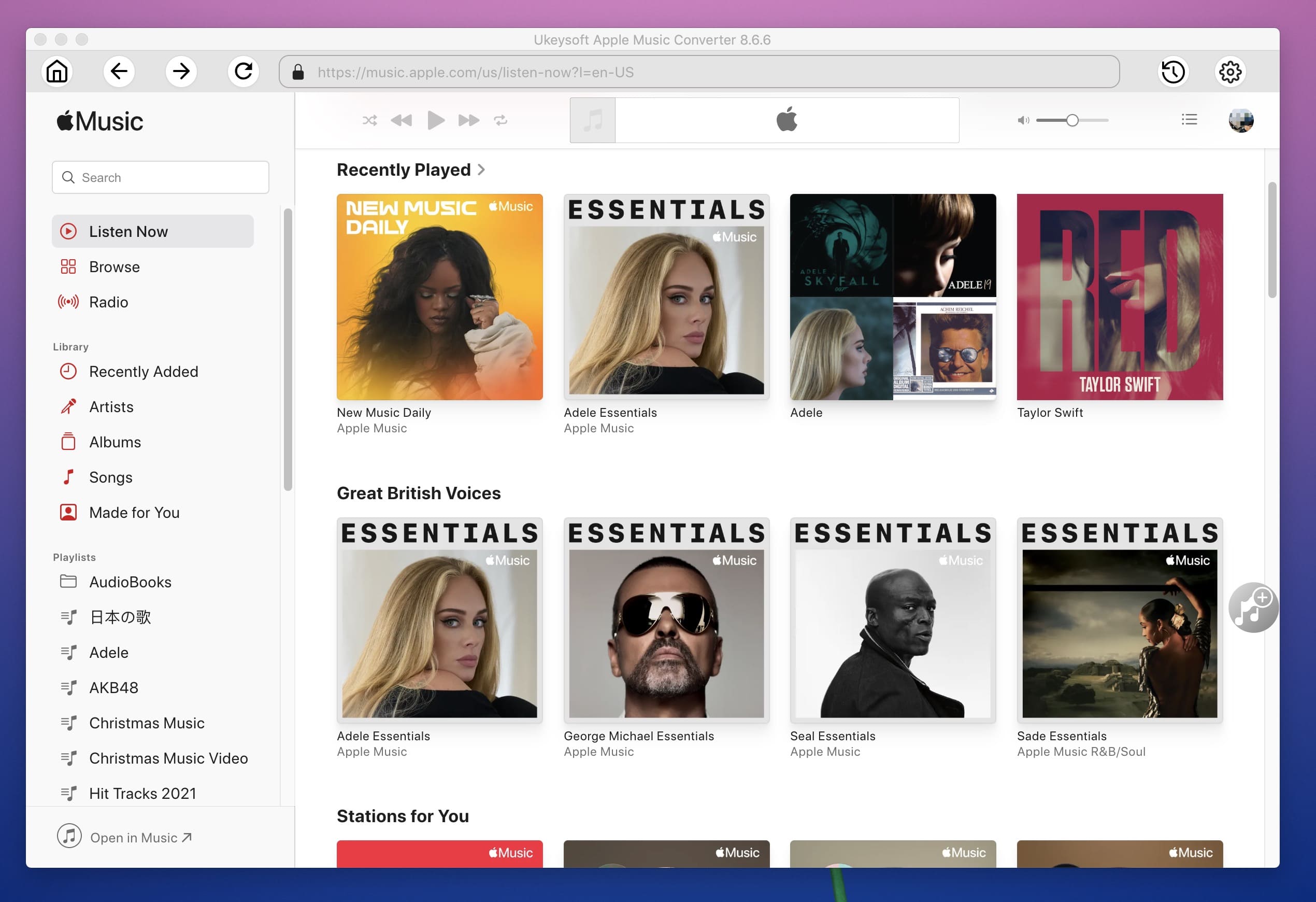 Step 3:
Now you have to make choices with apple music tracks and all the desired songs that you wish to convert as UkeySoft Apple Music Converter support to remove DRM from Apple music. This software also provides the batch conversion support to the user for this you have to search and select which means that if you remember any details like songs name, artist or album, then you can search in the bar and quickly find the song or music file that you need and select it.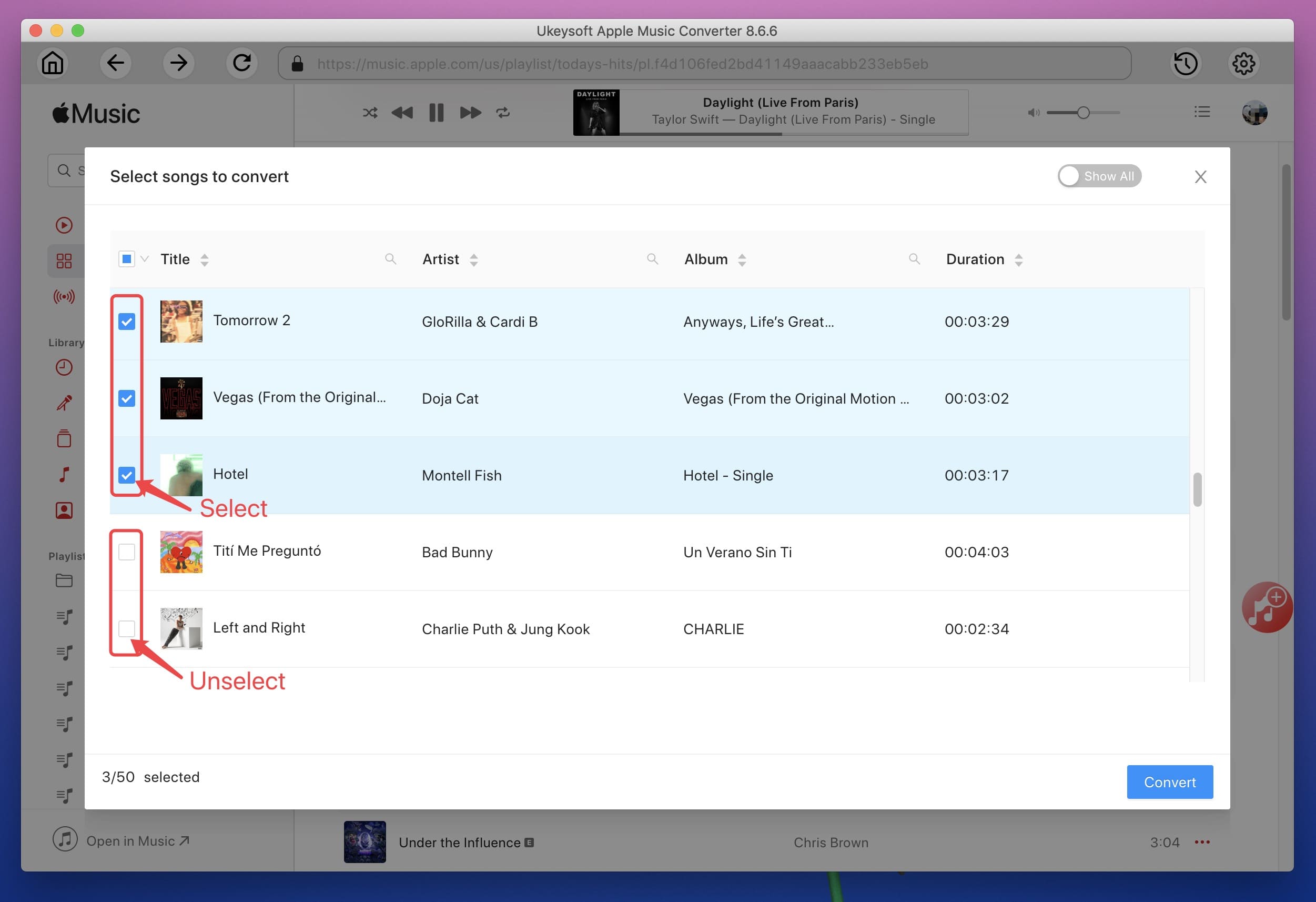 Step 4:
This step is followed by the selected MP3 songs all playlist, and then you have to select the audio format in which you want the conversion to happen. You can choose any format like AAC, FLAC, AIFF, AC3, AU files, and so on based upon the preference.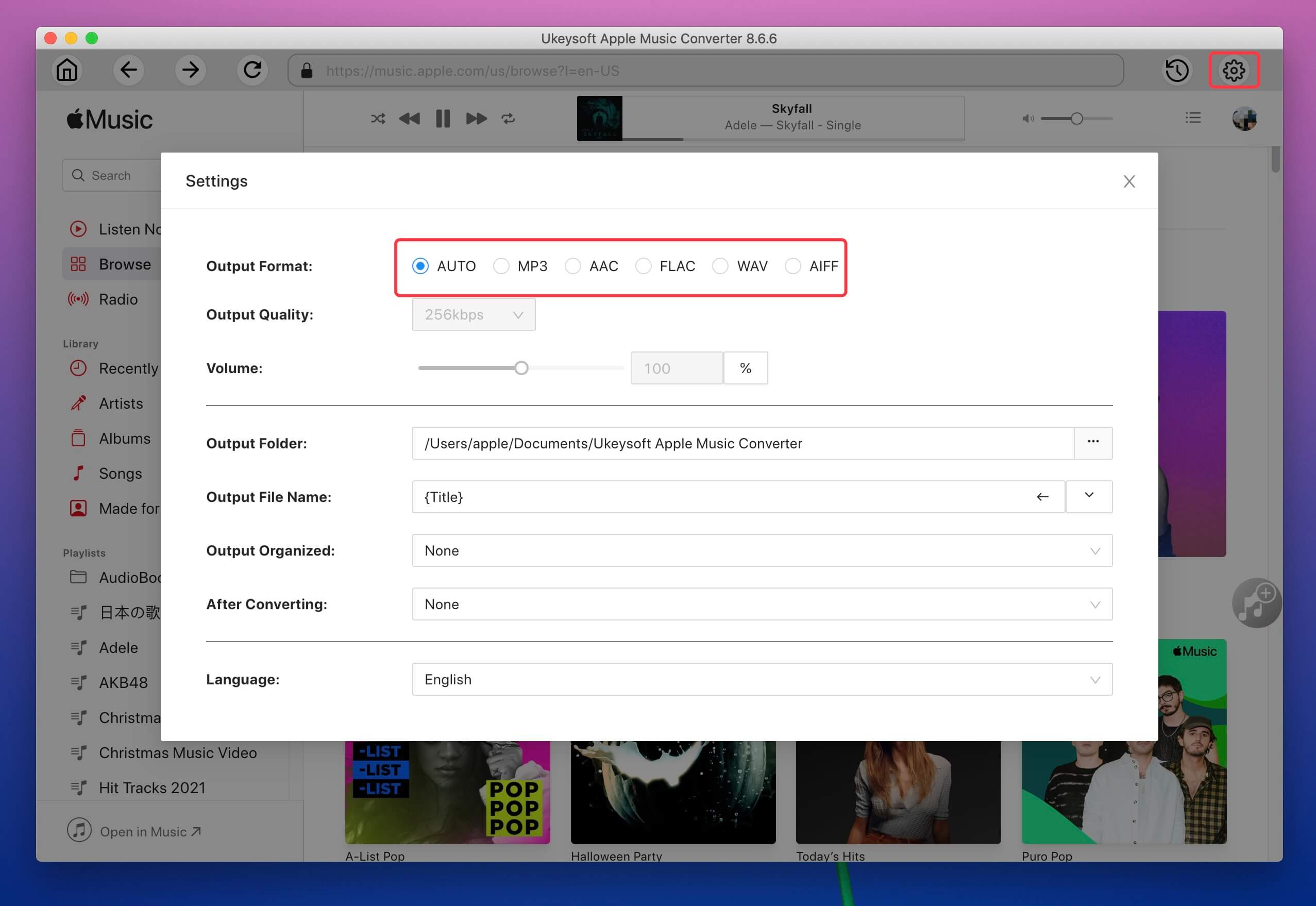 Step 5:
Now you have done all the previous steps. All you have to do now is to move ahead and start the conversion. For this process, you will have to click on the Convert button to start converting the music.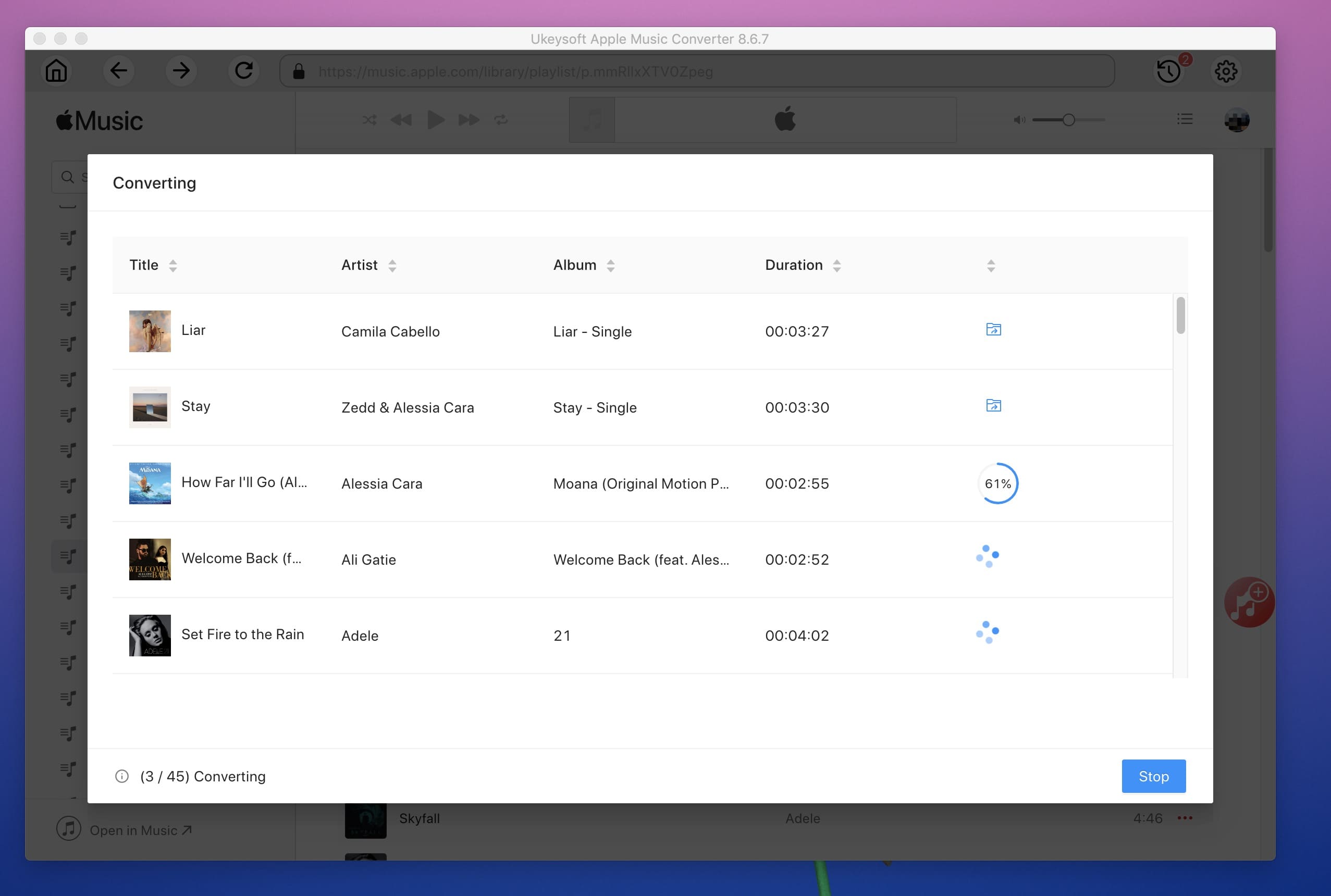 How to Convert Apple Music to MP3 format on Windows PC
 For Windows 7/8/8.1/10 users: To convert Apple Music tracks to MP3 and keep them forever with this powerful Apple Music conversion, please follow the below simple steps:
Step 1:
In this, you have to install and launch the UkeySoft Apple music converter on your device. This software is equally available for Apple as well as Windows, and after launching it, you have to select iTunes to load automatically in your playlist.
Step 2:
In this step, you have to select the required tracks and music panels from the left panel and then check the checkbox available in the information bar.
Step 3:
Now you have to choose the output format to Mp3, and by default, the software will use 44100 Hz, 128 kbps Mp3 output format. You can also choose various other formats available, and its MAC version also supports the conversion to MLA or M4A.
Step 4:
At this stage, you will have to adjust the conversion speed for the songs, and you can choose any speed ranging from 1 to 16. To get the most optimal results, you can choose 6 times speed for the conversion s it has the best conversion aspect offering optimal results as well.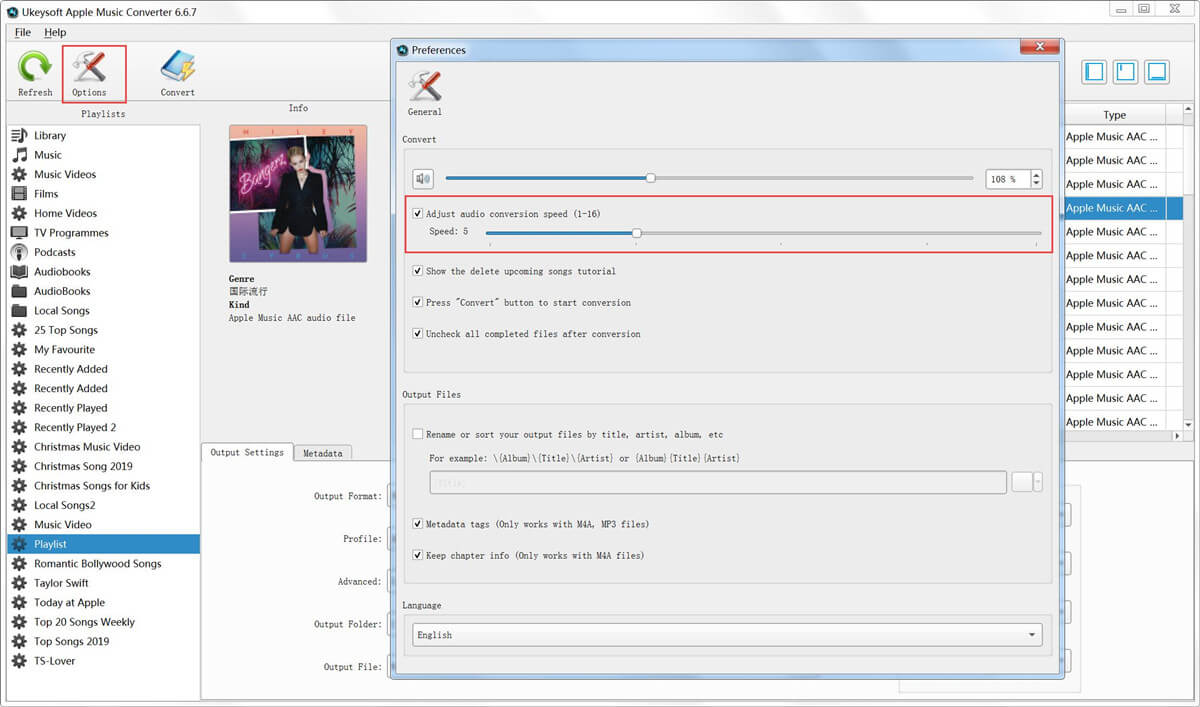 Step 5:
Now you have to convert the Apple Music or iTunes m4p files to MP3, and for this, you have to start the conversion by removing the DRM protection. Once the song is successfully converted, you have to select "open output file" and see the converted files in mp3 format.
Features of UkeySoft Apple music converter
We can easily compare UkeySoft music converter with other music inverters available in the market, but it has some of the best features which are irreplaceable. It not only supports apple music DRM removal but also helps with conversion and various other instances. Let us learn about some of its incredible features to have a better insight into the software.
Remove DRM from apple music- The UkeySoft Apple music converter can easily get rid of DRM in a legal manner, and it also gives the user an inability to convert such album or playlists into MP3, AAC, MP4, WAV, FLAC, and other versions 10 other audible formats. Through this feature, the users can easily play their songs whenever required without following the subscription.
Apple Music to mp3 converter in FLAC, M4R- this music converter also allows the user to easily convert the DRM-ed or no DRM audio files to some common formats at 16X fastest speed without compromising the quality. After converting the audio file in a simple format, the users can easily play Apple music on their device hence you can say apple music DRM removal is an easy feature that also supports offline music player on Android, iPod classic, iPod shuffle, Windows phone, BlackBerry, PS4 and so on.
Convert iTunes m4v iTunes and M4B another audible audiobook to DRM free access MP3- the UkeySoft Apple Music Converter easily performs the action to convert apple music to mp3, but it can also convert iTunes and other audio files. Through this DRM can be removed from any songs and audiobooks can be played along with the outputs like MP4, AC 3, AIFF, FLAC and so on.
Keep them using on after the cancellation of subscription- as Apple adds DRM protection to all of its music tracks after removing the protection from Apple tracks through his software, one can easily keep the music forever after the three-month trial. This is said as the best way that supports Apple, or iTunes DRM audio converter, keeping your download music play playable without any subscription.
Customize audio quality- the UkeySoft Apple music converter can significantly make the changes in audio quality of the music files, and it can be done by making slide adjustments in sample rate, bitrate, quality, and other such aspects.
Batch conversion of Apple music converter at 16X speed- this music converter offers 16 times more speed than any other regular converter. Also, it does not alter the quality of audio, and it is a tried and tested software having a wide array of efficiencies.
Keep metadata and ID tags- unlike other audio converters, this software program can easily convert the original metadata or ID 3 tags to various output audio file formats. It also includes details like artist name, album name, album artwork, and so on, and users can safely preserve the audiobook chapter details to M4A output.
Pros of the software
Many music converter software is not legally entitled to remove DRM protection from Apple music, but this software has legal derivative to eliminate DRM protection and delete any other restrictions to pass
It can also preserve the metadata and ID3 tags implying all the retention of the required details
it does not compromise the audio quality and maintain the integrity of audio files
It is also useful to keep the Apple music in a long time and offers playable support to the users even without a subscription
Cons:
You can't use iTunes before the conversion is finished
Not a free software
Pricing
The UkeySoft Apple Music Converter is priced at $39.95. This is a 1 PC/Mac license valid for a a lifetime. The family license is priced at $79.95 which can be used on 5PCs/Macs
Conclusion
The UkeySoft Apple music Converter has proved itself to be one of the most reliable music converter software program in the segment. In most cases, DRM protected Apple music gives lots of obstacles to the user as it is extremely important to get it removed at first. The software is coverage for all source instances where users can easily remove the DRM protection from Apple music and easily conduct the conversion of Apple music in the desired format.